Devious 2 Pack Bundle 240ml $13.99!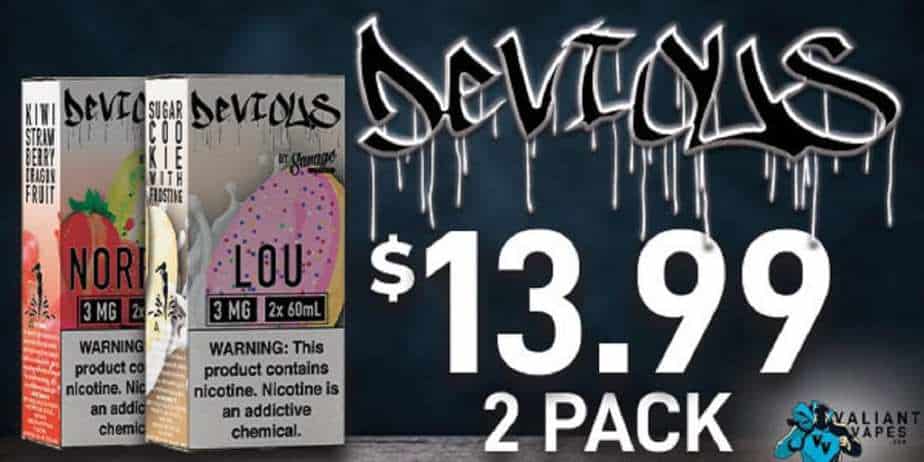 For a limited time only, the Devious 2 Pack bundle is now on sale right here for only $13.99! No coupon code required! Free shipping applies to US orders over $59.99!
The Devious 2 Pack Bundle is currently available in 0mg, 3mg, 6mg and 12mg of nicotine strength. In addition, you can choose which two flavors you would like! The flavors currently available is Lou, Marcellus, Vega and Norris. Each of these flavors do come in Chubby Gorilla bottles, allowing you to easily fill your tanks or drip tip. Full flavor descriptions are available down below for your convenience.
All in all, this is a excellent e-juice sale! If you're looking to try out some premium e-juice for an incredibly cheap price, then this is a deal you cannot miss! Make sure to check out this deal at Valiant Vapes for only $13.99!
E-Juice Sale Details:
240ml Total
Chubby Gorilla Bottles
Nicotine Strengths Available: 0mg, 3mg, 6mg and 12mg
4 Different Flavors To Choose From:

Lou: is a smashing combination of sugar cookies with frosting.
Marcellus: Perfectly tart lemons paired with creamy sweetness making this ejuice absolutely irresistible
Vega: vape your way to the tropics with this ejuice, a divine mix of blood orange, coconut, and mango.
Norris: is a roundhouse kick of delicious strawberry kiwi and dragonfruit