Vs Supply 100mls Only $5!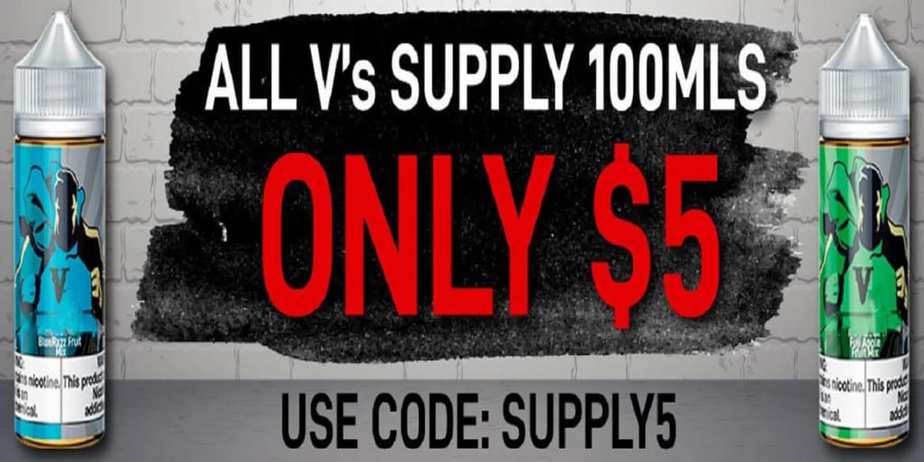 During the V's Supply 100ml Sale right here you can get a premium bottle of e-juice for only $5 using coupon code "SUPPLY5"! Free shipping applies to US orders over $59.99! Each customer is limited to 3 bottles per order.
During the V's Supply 100ml Sale, you can get a 100ml bottle of premium e-juice for only $5 using the coupon code provided! To make this deal even better, they offer free shipping on US orders over $59.99! This sale includes all 6 different V's Supply flavors which are Blue Razz Candy, Blue Razz Fruit, Fuji Apple Mix, Pineapple Strawberry Smoothie, Raspberry Cream Cake and Strawberry Cream Cake.
Each of these flavors come in a 100ml Chubby Gorilla Bottle, making it easy to travel with and store away. In addition, each of these flavors are available in 0mg, 3mg and 6mg nicotine strengths. Lastly, each vape juice has a high VG blend, so you'll experience massive clouds and flavor!
All in all, this is an incredible deal for the V's Supply E-Juice Line! If you are looking to try new fruit flavors or wanting to pick up some new premium e-juice for insanely cheap prices, then this is a deal definitely worth checking out! Be sure to check this deal out at Valiant Vapes for only $5!
E-Juice Sale Details:
​Get a 100ml Bottle Of V's Supply For Only $5 Using Coupon Code "SUPPLY5"
Only 3 Bottles Per Order
Nicotine Strengths Available: 0mg, 3mg and 6mg
High VG Blends
6 Different Flavors:

Blue Razz Candy
Blue Razz Fruit
Fuji Apple Mix
Pineapple Strawberry Smoothie
Raspberry Cream Cake
Strawberry Cream Cake