V's Supply Sale! 100ml $6.99!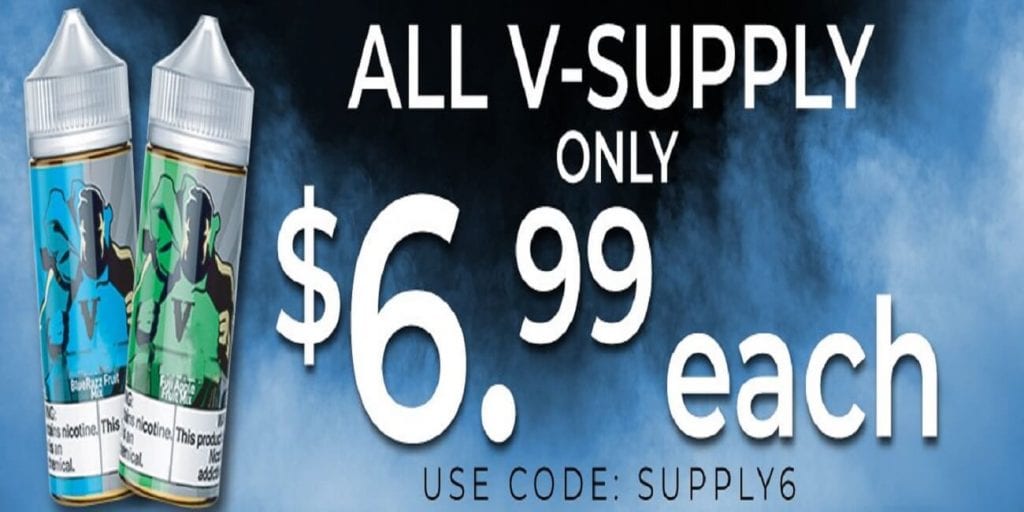 Here's an excellent sale over at Valiant Vapes! Get 100ml bottles of V's Supply e-juice for only $6.99 when using code "Supply6"! Free shipping applies to orders over $59.99.
This e-juice line features 6 different flavors which are BlueRazz Candy, BlueRazz Fruit Mix, Fuji Apple Fruit Mix, Pineapple Strawberry Smoothie, Raspberry Cream Cake and Strawberry Cream Cake. In addition, each of these flavors come in a 100ml Chubby Gorilla Bottle and have a high VG Blend. Lastly, they are available in 0mg, 3mg and 6mg nicotine strengths.
All in all, this is an incredible deal for the V's Supply E-Juice Line! If you are looking to try new fruit or dessert flavors for cheap, then definitely check out this deal. This sale does end in just under a week!
E-Juice Sale Details:
100ml Bottle Sizes
Chubby Gorilla Bottles
Nicotine Strengths Available: 0mg, 3mg and 6mg
High VG Blends
6 Different Flavors:

BlueRazz Candy: Blue Raspberry sweet and tart
BlueRazz Fruit Mix: Sweet and Sour Blueberries, Raspberries and Other Melons
Fuji Apple Fruit Mix: Fresh Ripe Fuji Apples Peared with sweet melons and berries
Pineapple Strawberry Smoothie: Creamy delicious strawberries meet lush pineapples
Raspberry Cream Cake: Enjoy this simple but complex Raspberry Frosted Cookie with a splash of milk
Strawberry Cream Cake: Delicious strawberries with cream atop a freshly baked cake with notes of cinnamon