Junky's Stash Sale! 100ml $3.99!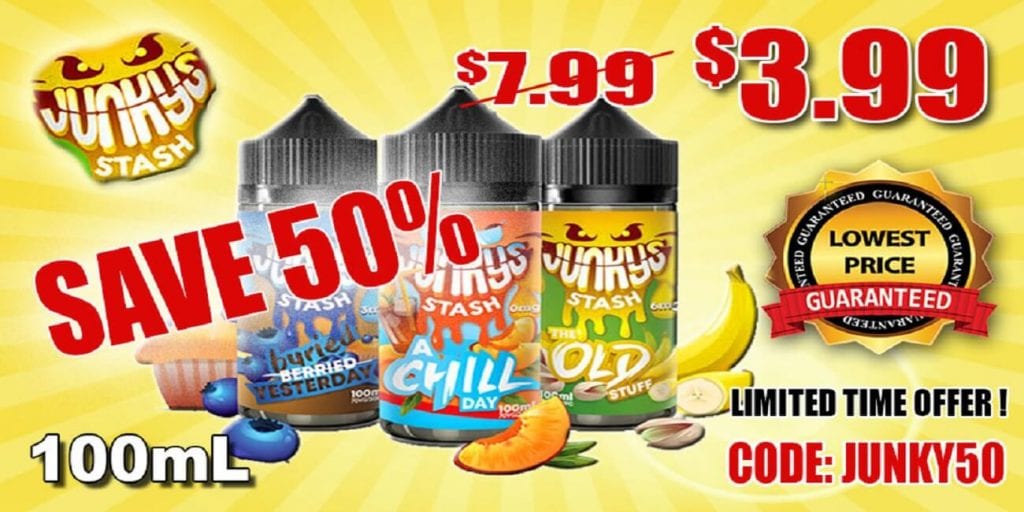 Here's an insane deal on the Junky's Stash E-Liquid Line! Get 100ml bottles for only $3.99 when you use code "JUNKY50"! This sale ends in just under a week!
There are currently seven different flavors to choose from in this line, and each come in a Chubby Gorilla bottle, so they're easy to drip or fill your tanks with. In addition, the nicotine strengths available are 3mg and 6mg. Lastly, each flavor available has a high VG blend, so you'll get plenty of clouds and flavor!
All in all, this is an amazing e-juice sale! If you're looking to grab a few 100ml bottles for a super low price, then definitely don't miss out on this deal! One of our personal favorites is A Chill Day. Remember, this sale ends soon!
Product Features:
100ml Bottle Sizes
Chubby Gorilla Bottle
High VG Blends
Nicotine Strengths Available: 3mg and 6mg
Flavors Available:

A Chill Day ICED
There's No Jam
There's No Jam ICED
Not The Reds
Not The Reds ICED
Buried Yesterday
The Old Stuff

Sale Applies to 100ml bottles only