Om Vapors New Year Sale! $4.99 120mls & More!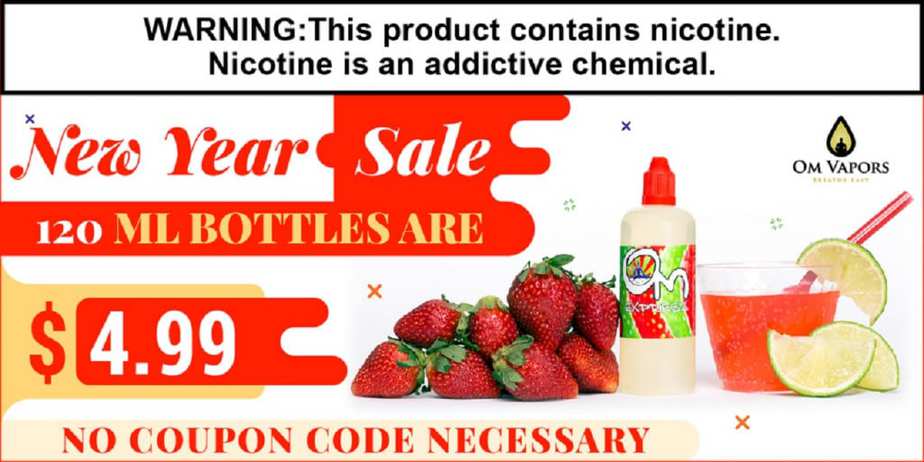 Store Sale
For a limited time only, Om Vapors is having their New Year Sale right here where you can get a large 120ml bottle of vape juice as low as $4.99! This discount automatically applies in your cart! They also have nic salt bottles for as low as $2.99! Free shipping applies to orders over $39.99 and international shipping is available! 
During the Om Vapors New Year Sale, you can get a 120ml bottle of e-liquid for only $4.99! You can also get a bottle of nic salt e-juice for only $2.99! In addition, Om Vapors has nicotine strengths up to 9mg available and a wide selection of gourmet flavors you can try! WTA's are also available for you vapers who enjoy more throat hit.
Each of their flavors are max VG, which means you will be getting excellent flavor and vapor production! The VG/PG ratio of their nic salt line is 60VG/40PG which is perfect for pod systems and MTL tanks. Lastly, they have 15 different salt nic e-juice available and each flavor is available in 12mg, 24mg or 48mg nicotine strengths.
All in all, this is an excellent E-Juice Sale! If you are looking to stock up on some of your favorite flavors from Om Vapors or simply want to stock up on some great tasting cheap juice, then this is a deal you definitely cannot miss! Be sure to check this deal out at Om Vapors, where you can get a 120ml bottle for only $4.99! Remember this sale is for a limited time only and does end soon!
Coupon Code: Automatically Applies at Checkout
E-Juice Sale Details:
120ml Bottles from $4.99
Nic Salts Only $2.99
Free Shipping Applies To Orders Over $39.99
Over 40 Gourmet Flavors Available
Nicotine Strengths Up To 9mg
15 Different Nic Salt E-Juices Available

12mg, 24mg or 48mg Salt Nic Strength Options

Max VG E-Juice