Bluebird E-Liquid Sale! Save 20% OFF + FREE Shipping!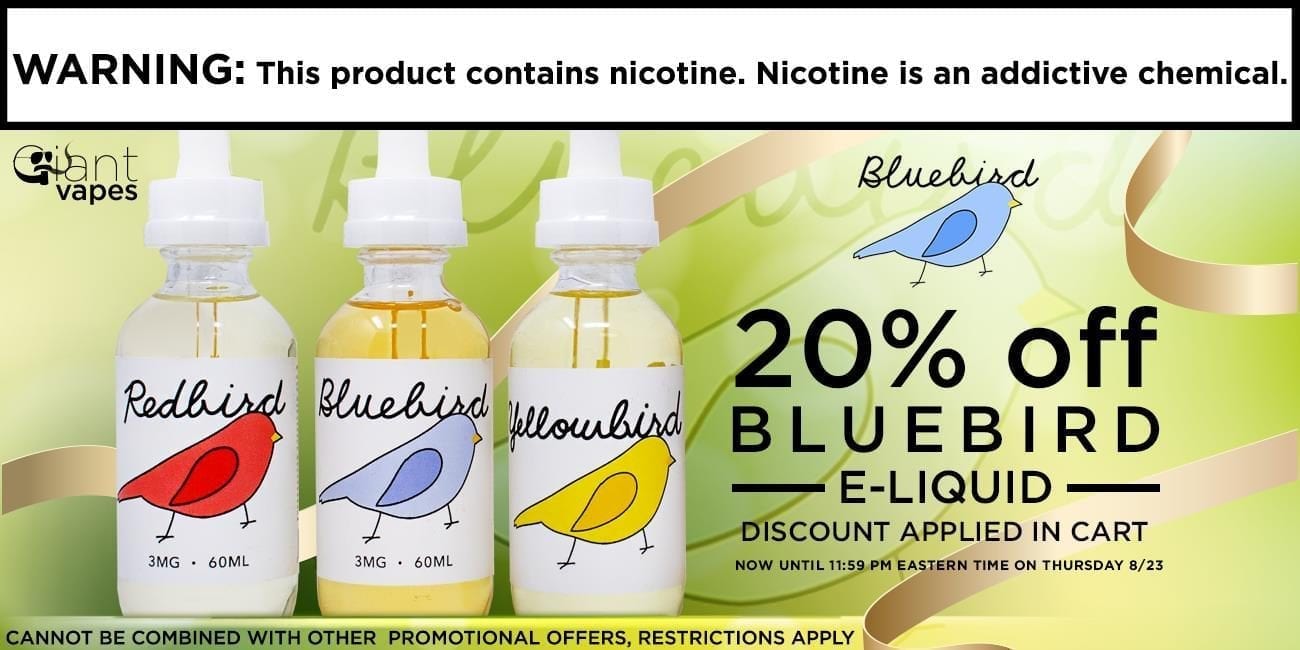 E-Juice Sale
For limited time only, Giant Vapes is having a sale on their Bluebird E-Liquid right here where you can save 20% off! No coupon code required! Free US shipping is included with this purchase!
During the Bluebird E-Liquid Sale, you can save 20% off, making a 60ml bottle of premium e-juice only $19.99! To make this deal better, they offer FREE shipping! The Bluebird Line consist of 5 different flavors which are Bluebird, Redbird, Luckybird, Lovebird and Yellowbird. In addition, Each bottle comes in a 60ml glass bottle. Lastly, the nicotine strengths available are 0mg, 3mg, 6mg and 12mg. Full flavor descriptions are available down below!
All in all, this is a incredible e-juice sale! If you are looking to try out some premium e-juice for cheap or simply want to grab some of your favorites from Bluebird, then this is a deal you cannot miss! Make sure to check out this deal at Giant Vapes where you can get a 60ml bottle of premium e-juice for only $19.99 plus FREE Shipping!
E-Juice Sale Details:
60ml Glass Bottles
Nicotine Strength Available: 0mg, 3mg, 6mg and 12mg
Flavor Description:

Bluebird: Berry, Cheesecake, Crunch
Redbird: Strawberry, Cheesecake, Frosted Cereal Crunch
Yellowbird: Lemon, Cheesecake, Puffed Corn Cereal
Luckybird: Marshmallow, Cereal, Milk
Lovebird: Strawberry, Cereal, Milk