Blazed Vapes Stock Up Sale! 20% Off All Vape Juice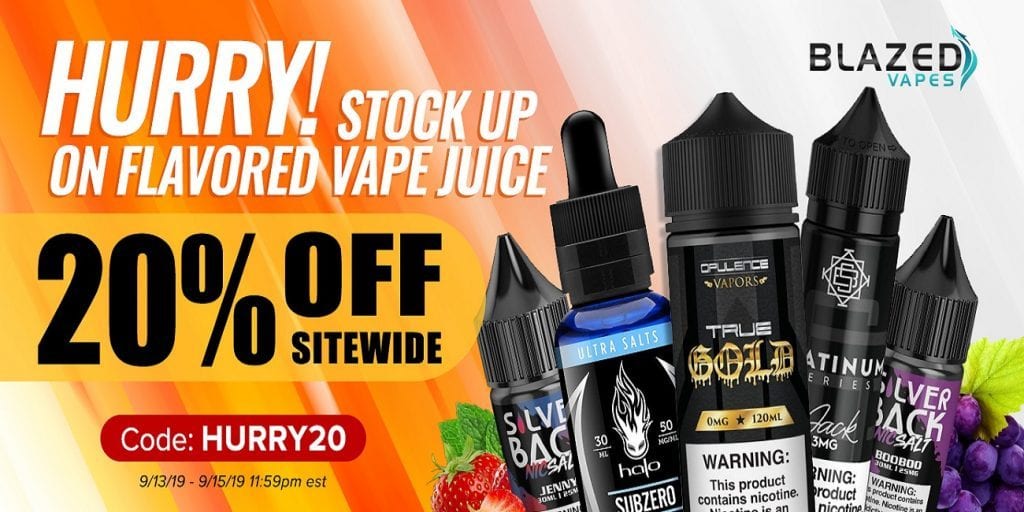 Here's a great deal to save on premium vape juice! Get 20% off all e-liquids at Blazed Vapes when using the code "HURRY20". Free shipping apples to USA orders over $75 if you want to save on shipping costs.
During the Blazed Vapes Stock Up Sale, you can save a whopping 20% off their already low priced premium e-liquid selection. If you haven't checked these guys out yet, you definitely should as they have discounts ranging up to 70% off already on both hardware and e-juices. For even more savings, definitely check out their clearance section, which was recently updated with even more sale products.
If you're looking for another sale this weekend to save on vape juice, then you won't wanna miss out on this sale at Blazed Vapes. For more site-wide savings, definitely check out our Blazed Vapes Coupon Code.
Blazed Vapes Sale Details:
Save 20% off all vape juice
Free shipping on US orders over $75
Great Clearance Deals On E-Juice & Hardware
Limited Time Sale