Best "Juul Like" Vape Pods (But Cheaper)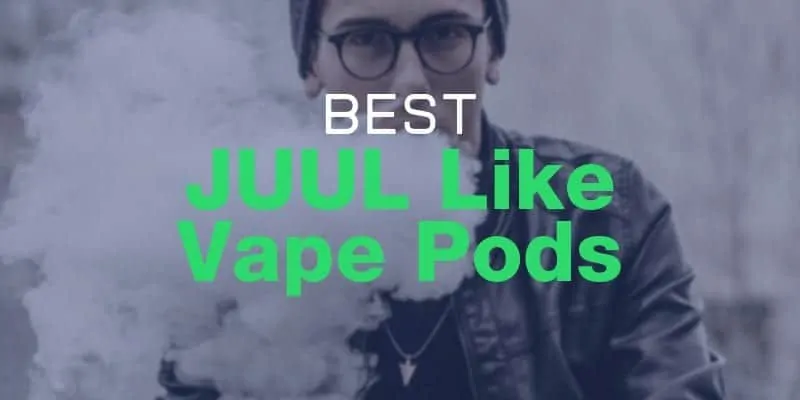 If you're looking for a vape pod with a strong hit of nicotine like the juul you've come to the right place. We've put together a list of the best cheap Juul alternatives that'll not only give you the best bang for your buck, but the same satisfying hit as the Juul.
Although the Juul is known as one of the best vapes to quit smoking, it can be quite expensive, and doesn't offer the flexibility that some other vape pods offer. Features such as a refillable cartridge, variable wattage output, coil options and replaceable batteries are just some of the things you'll find with these Juul alternatives. With that being said, let's cover some of the best options available today similar to the Juul starter kit.
Best JUUL Alternative
Suorin Edge
If you've been vaping for some time, then you've probably heard of this brand before. Suorin has made some killer pod devices in the past, and stepped their game up with their latest release, the Edge. What makes this so unique is the modular design, meaning that you can easily swap the batteries and pods in a matter of seconds. In addition, it features a USB Type C charging port, allowing you to fully charge the battery in 30 minutes flat!

The Suorin Edge Replacement Pods feature a 1.5ml e-liquid capacity, and can be filled with any e-juice you want, so you're not stuck with any pre-filled flavors, something the Juul suffers from. Not to mention, these pods are designed for a mouth to lung vape experience. They'll deliver a smooth draw, and throat hit that'll leave you satisfied with every puff you take.

What's great about the Suorin Edge Kit is that it does include two batteries, so you'll always have a backup. If you're looking for a quality vape, then you've gotta check out the Suorin Edge. The flavor is outstanding, the construction is impeccable, and the overall design is innovative, making this one of our top choices for the best Juul alternative.
Vaporesso Aurora Play
If you're looking for something super unique, and gives a familiar hand feel, then the Vaporesso Aurora Play is the one to look at. Aside from it's form factor, it does offer quite a few features to provide a stellar vape experience. For one, it's powered by the OMNI Board Mini Chipset, giving you a whopping 20w maximum output! Also, with this board, it offers the vaper a draw activated firing system. When it comes to chipsets, Vaporesso is known for producing some of the best.

Another great feature is the plug and play pods. This makes the entire process of installing the replacement pods that much easier. In addition, you can fill them quickly with zero mess since they have a push to fill system. Included in the packaging, you'll get a 1.3 ohm pod, and the coil inside is Vaporesso's CCELL coil. Again, this is something Vaporesso is well known for, and is still one of our favorite coil heads to date! There's also a single button allowing you to full turn off the device while not in use.

The Vaporesso Aurora Play is a one of a kind device with killer performance. Best of all, you can simply flick it to open it up and start vaping! If you want more power and functionality, then look no further!
Uwell Caliburn
Since its release, the Uwell Caliburn has been a hit, and for good reason! We can certainly say this one does live up to the hype. It's packed with loads of features, and just performs that good. Firstly, it has dual firing methods. You can either press the fire button and vape, or use its draw activated firing system. In addition, it has a max wattage output of 11w with a direct voltage based output. What this means is that when the battery is fully charged, you'll get the strongest hit. As the battery starts depleting, the power will also decrease.

What makes the Uwell Caliburn Vape Pod so great is the included pods. These refillable pods have a 2ml maximum e-liquid capacity, and can be filled with its top fill ports. The drip cap acts as a cover alongside your mouthpiece. Also, the pods do have a resistance of 1.4 ohm, ideal for a mouth to lung vape experience. Charging can be done quite quickly as well since it does support up to 1A charging speeds.

The Uwell Caliburn is not only one of the best Juul alternatives out there, it's also one of the best pod vapes. When it comes to flavor and total vape satisfaction, this one is hard to beat.
Aspire AVP Pod System
Aspire's AVP Pod System is an awesome piece of vape hardware, and honestly it's expected as this brand has a great track record. There's multiple reasons as to why this is one of the best Juul alternatives. Firstly, it has three different wattage settings which include 8w, 10w and 12w. Like some of the other devices listed here, it does have a draw activated firing system, but it can be turned off with 5 clicks of the power button. This button also acts as your wattage control, allowing you to adjust the wattage output on the fly.

Now, the wattage control may not seem like a huge deal, but trust us, it is. Those small increase or decrease of wattage totally changes the vape experience from warm to cool. Also, for you vapers looking for a stronger hit, the 12w setting will be the one you'll always choose.

Another amazing feature is the refillable pod cartridge. Two of them are included in the packaging, which is always a good thing! These pods just vape great, and provide some of the best flavor we've had from any pod device. In addition, filling it can be done quickly with its mess free fill system. If you want to see more, be sure to check out the video below with our full review.
VooPoo Drag Nano
This new VooPoo Pod Kit incorporates previous designs into a brand new device, and we're impressed. The overall construction and resin panel is just stunning. Like previous Drags, the Drag Nano Pod does feature a Gene Chipset, so you know you'll get solid performance. In addition, it houses a 750mAh built in battery, and that's quite impressive given its tiny size. You'll be surprised when you hold one in your hands, it's that small!

Also, it includes one refillable cartridge which holds a maximum e-liquid capacity of 1ml. This isn't a whole lot by any means, but with its 1.8 ohm coil, you won't be plowing through e-juice like you normally would with a sub ohm tank. There's an LED battery light indicator too with three different flashing colors, so you'll know exactly when you need to charge it. Lastly, the Voopoo Drag Nano Pod System offers the vaper five different safety protections.

If you want something discrete and much smaller than the Juul, then add this to your shopping list. Even with its small size, it packs a huge punch that'll satisfy any vaper especially when paired with nicotine salt e-juices.
Smok Infinix Pod System
When looking for a Juul Alternative, the Smok Infinix is definitely one to check out. It sports a similar shape, but has a few advantages over the Juul which makes it one of the perfect replacements.

Firstly, you get two pods included in the packaging, which you can fill with your favorite e-juice. Each pod has a 2ml capacity, which is double that of the Juul Pod. The actual coil inside of the pod has a resistance of 1.6 ohm as well. In addition, it has a wattage range between 10w and 16w depending on the state of the battery. Also, the Smok Infinix is packed with various safety features including 8 second cutoff, short circuit protection, and low voltage protection.

If you're looking for a vape that's similar in size to the Juul, but offers a bit more power and the ability to use your own vape juices, then the Smok Infinix is a great option. The best part about this device is the cheap price!
Sense Orbit TF Pod System
If you're looking to expand your vape experience to something totally different than the Juul, then the Sense Orbit TF Pod Kit is the one to check out. Included, you will receive two different coils, a 1.1 ohm coil catered to mouth to lung vaping, and a 0.6 ohm mesh coil. The mesh coil is where things get a bit different, as these are designed for direct lung vaping. Not many pods offer this type of vape nor this type of coil head.

You'll have no issues with this lasting throughout the day either, and this is thanks to its 1,100mAh internal battery. In addition, it has a simple single firing button operation, which is used to vape, turn off the device or lock it. Also, it has a whopping 3ml e-liquid capacity, and can be filled from the top! Refilling this cartridge would take you merely seconds to do!

This is a great option for you vapers looking to take the next step, and experience something totally different than what you're used to from the Juul. Trust us, you won't be disappointed with the flavor or clouds this baby produces.
Reasons Why To Replace Your Juul
There are many reasons as to why a vaper would want to replace their Juul device. Below we'll cover the key reasons as to why you may want to replace yours.
Cost
The first thing has to definitely be the overall cost. Juul and the Juul Pods can be quite expensive, especially if you're a chain vaper. Since the pods aren't designed to be refilled, this makes the cost of usage much higher than another pod device where cartridges can be refilled multiple times.

Not to mention, the actual price of the device is on the expensive side too. Also, since the Juul does use a proprietary charger, if you lose it, you're either stuck with having to buy another, or a third party Juul Charger like the Jmate PCC. As you can see, owning a Juul can be quite expensive when comparing it to other options on the market.
Refillable Pod Cartridges
As mentioned above, refillable pod cartridges are a pretty big deal as it not only saves you some cash since you're able to refill countless times, but allows you to use any vape juice you want.
Although there are many different Juul Flavors, having this flexibility opens a whole new world of flavor options as you're not stuck with only a few select flavors. Believe us, there are a ton of vape flavors out there, and you can see a whole list available with our best e-juices.
Battery Capacity
Another huge reason why a vaper might wanna go a different route than their Juul is battery. If you've used the Juul, then you know the battery might not last throughout an entire day, especially if you're vaping often.

Many newer pod mods offer a much bigger battery, giving you a full day, if not days of battery life. Also, some of these pod devices offer quick charging, so you're back to vaping under an hour. To see more on our thoughts on the battery, check out our full Juul Review.
Power
Here's another important reason to get a Juul Alternative, power. The Juul is only able to provide so much power due to its size and design. With some other pod devices listed here, you'll be able to get double to power output, and even be able to control the actual output. This gives you freedom in controlling your vape experience.

If you want a cooler or hotter vape experience, you can easily adjust it with some of these pod systems. Once you've tried adjusting a stronger or weaker hit, and the ability fine tune your vape, you're not going to want to go back to the Juul.
Options
As mentioned previously, you'll have a bunch of options at your disposal. Now, we're not talking actual devices, but the different types of pods, accessories, coils, colors, e-juices, and more. Having multiple options is always great, and allows you to really find the perfect vape for you.

With different coil and pod options, you can get a restricted mouth to lung, a loose mouth to lung or even a direct to lung vape experience. For the Juul Pod, you're only able to get a single type of vape every time, and while this may work for some, other vapers may want to venture out and try different vaping styles. For us, the more options, the better!
Vape Pod Alternatives to the Juul FAQs
Suorin VS Juul - Which Is Better?
Here's a question that's often asked when looking for the best Juul alternative, Suorin VS Juul, which is the better option? There are many factors to consider when choosing your vape, and it's important to look at all of them to really decide which is better for you. While some vapers may prefer the Suorin, some may prefer the Juul or other vape pods.

Also, depending on which Suorin product you're comparing will determine which you would want to add to your arsenal. For example, the Suorin Edge listed here is their newest release, and offers unique features such as interchangeable battery system, USB-C charging and more. Not to mention, refillable pods that you can fill with your preferred e-liquid. With the Juul you're looking at simplicity, but a closed system. When comparing these facts, it really boils down to which you personally feel is best for you. Just remember, there's no wrong choice!
What Are The Best Juul Alternative Brands?
Another frequently asked question that we often get is which is the best Juul alternative brand? When it comes to choosing a vape device to replace your Juul, there's a wide variety of brands available to you. While there's no one best brand, there are plenty of great options out there.

In addition, there are tons of different products from these brands, so the options are nearly endless. With that being said, it's down to a personal preference as each brand, and pod will have their own unique style. While you may like you specific style of device, another vaper may prefer another. If you're looking for more brands and devices to check out at cheap prices, then we do suggest checking out some of these vape pod deals.
Smok Infinix VS Juul - Best Choice?
Another comparison that's often asked about is the Smok Infinix VS Juul. Like with the Juul VS Suorin, it's all about your personal preferences and how you enjoy vaping. However, we'll cover just a few quick facts to consider when choosing between the two.

Firstly, like many other pod mod vapes, then Smok Infinix is able to be vaped with different types of e-liquid including both Freebase and Salt Nicotine. Secondly, it offers a maximum output wattage of 16w. When comparing it to the Juul, it's slightly more powerful, and can be customized using different e-liquid types. Not to mention, it's quite a bit cheaper too.

So which is the best choice? Our money would go to the Smok Infinix, simply due to the fact that the pods are refillable, giving more value to each dollar spent. You'll be able to get the same satisfying hit without breaking the bank.
What Is The Best Alternative To Juul?
There isn't just one single best alternative to Juul, but there are plenty of amazing options. The pod kits listed here are some of the best available in regard to price, performance, features, versatility and availability.
Finding The Right Alternative For You
Finding the perfect replacement may not be the easiest task, but with these options available, you can narrow down some of the best choices. As mentioned before, there are so many different brands, vape pods, coils, features and more that will determine the best alternative to suit your vaping needs.

However, we will say that by considering these vaping devices, you'll be able to experience a new side of vaping when comparing them to the Juul. The simple fact that you're able to vape on any kind of e-juice on the market is amazing.

On top of that, being able to fully control your vape device takes things to the next level.If you're looking for even more powerful devices, then be sure to check out some of the best vape mods, with some being able to pump out over 200w of raw power.

With this article, we hope that finding the best Juul alternative will become an easier task for you. As always, thanks for reading, we look forward to any questions or comments below!