3Avape 5 Year Anniversary Sale! Extra 15% Off Site-Wide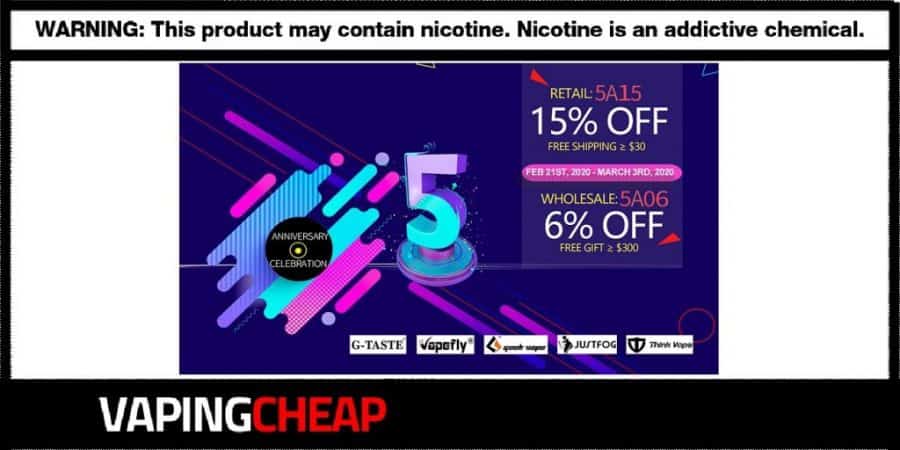 Here's an awesome sale over at 3Avape! They're celebrating 5 years, and offering an additional 15% off their cheap prices site-wide with code "5A15". You'll also get free worldwide shipping when spending over $30. If you're shopping wholesale, you can also save 6% off using code "5A06".
During this 3Avape store sale, you can save an extra 15% off their already low prices across their site. They've recently updated their new arrivals selection with plenty of new vape gear, so definitely check out what's new. Additionally, we highly recommend logging into your account, as you will receive even more discounts on select products.
The last section we'd recommend shopping from is their clearance. They've got an insane hardware and accessories discount going on right now, with plenty of vape gear coming in at under $10. Don't forget to save on shipping when spending only over $30.
Here's yet another amazing sale to end the month. If you're looking for some cheap hardware or accessories, you'll want to check out this 3Avape sale, that's for sure. To get more savings, check out our 3Avape Coupon Code.
3Avape Sale Details:
5 Year Anniversary
Save Extra 15% off Site-Wide
Free worldwide shipping over $30

Log Into Account for More Discounted Products




Many New Pre-Orders & Releases

Excellent Clearance Deals (as low as under $5)

Limited Time Sale