3Avape Double 11 Sale! 20% Off Orders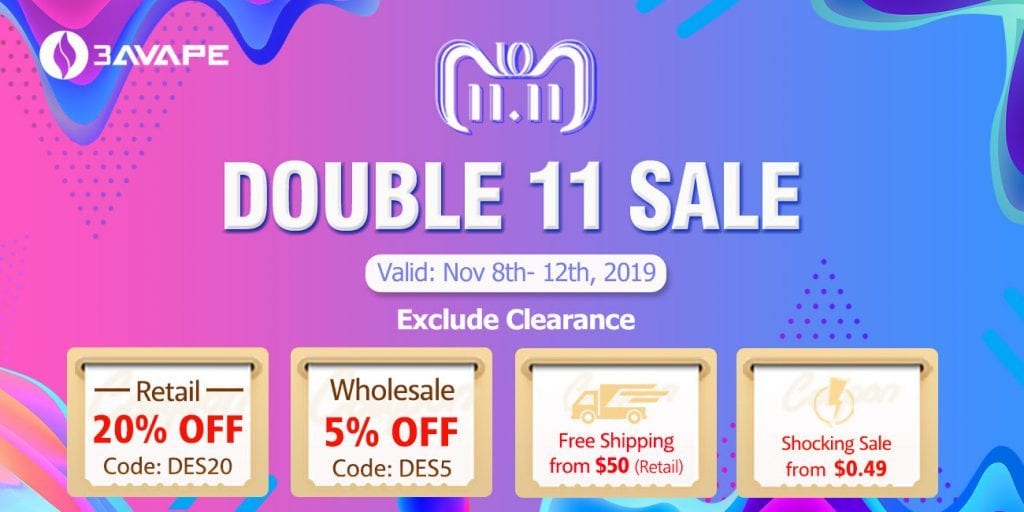 3Avape has now started their Double 11 Vape Sale! Get 20% off your order when using code "DES20". Free shipping does apply to orders over $50. You can also save 5% off wholesale using code "DES5".
During this 3Avape store sale, you can save a whopping 20% off almost everything site-wide. What's even better is that you'll get even more discounts on select products by simply logging into your account. While this code doesn't include clearance, we highly recommend checking out what they have to offer. They've got shocking prices as low as only $0.49!
If you're looking for another site-wide sale to save on vape gear, then definitely check out this 3Avape sale. They don't usually offer this high of a store-wide discount, so you'll definitely want to take advantage while you're able to. To get more savings, check out our 3Avape Coupon Code.
Promo Code: DES20 (Retail), DES5 (Wholesale)
3Avape Sale Details:
Save ​20%

off Site-Wide (Retail)

5% off For Wholesale

Shocking Prices as low as $0.49

Free Shipping to most countries over $50

Log Into Account for More Discounted Products

Excludes Clearance

Limited Time Sale